Integrated IT: The Future of Hospital Healthcare in Japan
At La Foret Hotel, Tokyo Wednesday February 28th, 2007
A one-day forum introducing IT Integrated healthcare leader:
Hackensack University Medical Center, USA


Dr. T. Mano
MD, Ph.D, MBA


Dr. Masanori
Akiyama
MD, PhD


Dr. Peter A Gross
MD
VP,CMO, HUMC


Dr. Gerard A. Burns
MD, MBA
Director Medical
Informatics,
HUMC


Mr. Lex Ferrauiola
VP IT, CIO, HUMC
A new era for Japanese Health Centers and Hospitals
With new legislation affecting Japanese healthcare there is mounting pressure to streamline hospitals and medical centers while simultaneously improving quality of care. Hospital management and healthcare related business are wondering how this will affect them and what they can do. ICO Tokyo is proud to invite representatives from Hackensack University Medical Center (HUMC), a recognized leader and pioneer in modern healthcare and integrated IT in the USA. HUMC will address these issues and how they are successfully planning and meeting the challenges of both streamlining and boosting quality, efficiency in the modern IT-integrated medical center. During this one-day seminar attendees will also hear expert opinions from distinguished speakers from Japan who give their own professional perspectives and opinions. There will also be a bonus demonstration of the computerized clinical trials by technology-leader Siemens Soarian.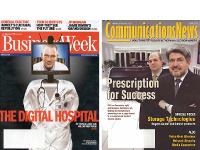 Hackensack University Medical Center:
IT innovator and integrator
According to BusinessWeek, HUMC is one of the most "wired" hospitals in the United States. In Consumer Digest's "Hospital Safety: Where to Get the Best Care," HUMC was listed in the top three for hospital safety and quality in America's 50 exceptional hospitals. US News & World Report ranked HUMC as "America's Best Hospital-Heart & Heart Surgery, Geriatrics". It has also been awarded the Magnet Award for Nursing Excellence, and Hospitals and Health Networks Magazine has ranked HUMC "Most Wired for Effective Use of Information Technology" for six consecutive Years. It has also been given HealthGrades Distinguished Hospital Award for Clinical Excellence.
Distinguished Speakers
Lecturers will include three executive staff from HUMC: Dr. Peter A. Gross, CMO, HUMC Executive Committee, Board of Governors and Chairman of the Drug Safety & Risk Management Advisory Committee, and who has served with the U.S. Food and Drug Administration (FDA) from 2003-05; Dr. Gerard Burns, MD, HUMC's Director of Medical Informatics; and Mr. Lex Ferrauiola, HUMC's Vice President of Information Technology and CIO. These are key leaders guiding the Medical Center's successes in maintaining both efficiency and quality standards. There will also be a image-presentation of the HUMC state-of-the-art medical center and facilities in New Jersey, USA.
Distinguished speakers from Japan include Dr. T. Mano, MD. PhD, MBA, who will lead the forum and Dr. Masanori Akiyama, MD, PhD who will give an introductory lecture. Dr. Akiyama is professor at Sloane School of Management at MIT, Boston and is very familiar with the differences in medical treatment systems in the USA and Japan.
During the forum there will be simultaneous interpreters.
Who should attend
This forum will be of critical interest to all professionals and decision makers including: Hospital Management, Corporate Planning Management, Information System Development staff, IT Engineers, Medical Equipment Suppliers & System Providers, Pharmaceutical Companies, Clinical Trial Staff (CRO & SMO).
Only 150 places are available so please reserve now.
Date, Time and Location
This will be a one-day forum held on Wednesday February 28, 2007 from 10:00 a.m to 6:00 p.m. at La Foret Hotel in Tokyo at 4-7-36, Kita-Shinagawa 4-Chome, Shinagawa-ku, Tokyo 140-0001 Tel :03-5488-3911. For directions please link to: <http://www.laforethotels.com/tokyo/tokyo/trf_conteng.html>. Doors open at 9:30 a.m. It will be held in the Hotel in the "Shogetsu-no-ma" Room. After the seminar there will be a reception at 6:30p.m. (additional attendance fee \7,000).
Tickets - discounts for buying early and tickets of two or more from same company
Attendance fees for the forum is \49,500 for the first 90 registrants (from 91st to 150th attendee the cost per person is \52,500) There is a volume discount available for companies (from the second person in the same company ticket prices are \26,250). These fees include all printed handouts, brochures. The reception costs \7,000 in addition.
All attendance fees are inclusive of tax. If you wish to join the reception please state this in the registration form. There is a limit of 150 attendees to this so we encourage you to purchase in advance. Tickets can be purchased by contacting:
If you there is any problem accessing the site please contact us directly by e-mail at:
In your e-mail please note the name of this seminar "Integrated IT: The Future of Hospital Healthcare in Japan Feb 28, 2007",
Number of tickets
Name on each ticket
Your company or organization
Postal address
Telephone number
e-mail also
Please note if you will be participating in the reception.
When payment is confirmed the registration is complete. Please wire the fee within 7 days after your registration is made either via internet or by e-mail. Registrants are responsible for payments of their wire transfer fees. There are no cancellations once this fee is paid. However you may transfer the ticket to another person. As soon as we confirm the payment our offices will e-mail you with confirmation. If you do not hear from us after one week following payment please contact our offices. Even though you apply, if there is no payment within 10 days the reserved space may go to other people who have already made their payment.
Thank you for your kind cooperation and we look forward to seeing you at this important forum!
MediPharma Language Ltd.
TEL : 033-3589-2770
HP : https://www.mplanguage.co.jp
E-mail :info@mplanguage.co.jp