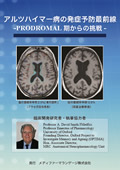 "Towards the prevention of Alzheimer's disease"



Free Mail Magazines
(in Japanese only) delivered by MediPharma Language.
A magazine for those intereseted in the job of medical and pharmaceutical translation.
The latest publication

"Towards the Prevention of Alzheimer's disease"
     - Challenge from Prodromal Phase -
Clinical researchers and supervisors:
Prof. A. David Smith FMedSci
Professor Emeritus of Pharmacology
University of Oxford
Founding Director, Oxford Project to
Investigate Memory and Ageing (OPTIMA)
Hon. Associate Director
MRC Anatomical Neuropharmacology Unit
UK

Dr. Celeste A. de Jager
Neuropsychologist at OPTIMA
Nuffield Department of Clinical Medicine
University of Oxford
UK

Supervisor of the Japanese version:
Tohru Koide, Ph.D.
Neuroscientist

Editor and author:
Eiko Kon
Science journalist
President
MediPharma Language Ltd.


◎ e-Book / 69pages ¥3,240 (Included tax)

◎ Hard copy based book / 69pages ¥5,400 (Included tax)
[Internal dispatch] ¥400
[Overseas dispatch] ¥1,500

NOTE⇒As for 4 copies or more, the postage will be as follows:
[Internal dispatch]¥1,600
[Overseas dispatch]¥3,500

ISBN code : 978-4-905175-01-8
Published in May 28, 2012.
Being on sale.

NOTE:
If you would like to purchase the e-book or the hard copy based book by TEL or FAX, these numbers are as below.
TEL. 03-3589-2770
FAX. 03-5935-8442